How to play slot games: The ultimate guide to online slots
Online casinos are never without their classic slot games. It's the perfect casino game; quick and easy rounds that you can play one after another with the potential to win massive prizes. Every spin of the reels is a test of your luck, where you could either get a handsome payout or lose out on the chance for the jackpot.
Slots is the most well-known game of chance you could find in any online casino. This beloved game has had many iterations over the years with slightly varying game mechanics. If you're a beginner player, and you want to learn more about slot games, this guide provides you with the basics of slot games, their different types, and what strategies you can use to maximise your games.
How does an online slot machine work?
Online slot games are a virtual adaptation of the popular machines you'd commonly find in land-based casinos. It forms winning combinations of symbols based on the number of reels and paylines of the game.
At any given online casino, it's typical to have an impressive library of over a thousand slot games to choose from, and new players might find this overwhelming. However, despite the sheer volume of games you might find, they all share the core mechanics of slot games only with slight variations between games.
Slot game's main components
The biggest difference you'll find between most slot games is its theme and premise, but the gameplay stays largely the same. To get familiar with them, here are the main components you should know about when slot games online.
Reels
The reels are what you probably imagine when you think of slot games. It's a fundamental part of a casino slot game since it's what you instantly see when you open the slot game. It displays the symbols that will be included in the winning combinations after spinning the reels.
Most slots tend to have around 5 to 6 reels with any number of rows, but it's not odd to find a game with 7 or more reels. Game providers can get creative with their reels by having unique layouts. This includes having a separate reel on top of the regular reels like in Wild Coyote by OneTouch.
Paylines
The paylines are the set patterns you'd want the symbols to form when you spin the reels to receive a payout. A typical slot game with 5 reels and 3 rows, would have a minimum of 20 paylines or a maximum of 243, depending on the game provider.
Paylines are often read from the left side of the reel to the right, but some games produce combinations that start the opposite way. Some games alter the payline system to better fit their game by incorporating cluster or scatter pays.
Cluster Pays give out your winnings as long as a certain number of the symbols are clustered together on the reels without having to follow a line. Scatter Pays work the same way, except they can be anywhere on the reels. These systems are typically reserved for games that have large enough reels to accommodate them.
Paytable
The paytable is your online slot machine cheat sheet. Before you decide to place a bet on a certain game, it's good practice to first go through and study that game's paytable to know what to expect when you start playing.
If you're just starting with playing slot games, be familiar with the paytable first. This is where you'll get all relevant information on the game such as all available symbols and their values, any special symbols, and free spins and other bonus games the game might offer.
Winnings
As previously stated, you get rewarded by spinning the reels and landing symbols on the required paylines. The size of your winnings will depend on the kind of symbol you landed and how many are included in the payline. Some symbols have a higher chance of landing on your reels than others. The rarer a symbol is, the higher its value.
Your wins are determined by a Random Number Generator (RNG). While this ensures that all the games are fair and can't be rigged, it also means you're at the complete mercy of luck, giving you completely random slot machine odds. There's no proper way to manipulate the reels so the frequency of your wins and how much you win are all completely random.
Slot game common features
Online slot games often give you plenty of opportunities to earn more with their bonus features. Slot games can get repetitive, so to keep you interested in exciting gameplay, providers would typically include bonuses that you can activate for a chance to get bigger prizes.
Bonuses can come in the form of special symbols or bonus games. Here are some of the most common ones you'll find in almost every slot game:
Wild symbols
Wild symbols are the most common special symbols you can find in any slot game. This is a symbol that can substitute almost any other paying symbol to give you more chances of forming better combinations. Some slot games also give Wild symbols their payouts where landing a certain number on the reels will give you a corresponding payout.
Scatter symbols
Scatter symbols are another common type of special symbols. Scatter symbols have payouts you can receive when you land a certain number of them. They typically pay higher than Wild symbols. Additionally, Scatters can land anywhere on the reels and don't have to follow any paylines. Landing several Scatter symbols can activate certain bonus features like Free Spins.
Free Spins
Free spins can be won by landing Scatter symbols on the reels. These are bonus rounds where you win extra spins at no extra cost. When you land winning combinations during the Free Spins rounds, you are often rewarded multipliers. As you accumulate more multipliers, they are applied to your current bet once you've exhausted all your free spins.
Bonus Features
Other online slot features you'll find are specific to the theme of the game and are meant to add another layer of intrigue. Typically, these bonus features require something to work towards, like filling up metres or collecting symbols for extra bonuses. These tend to be rare as they have the potential to give the highest payouts.
Types of slot games
Slot games are a beloved game in casinos, whether online or brick-and-mortar. On top of being one of the easiest to operate, it has great rewards you can win. With the popularity of slot games, casino slot machine types have been developed for more exciting gameplay.
Here are some of the most popular variations in slot games and what makes them special.
Classic slots
Classic slots are derived from the traditional, mechanical casino slot machines you would find in brick-and-mortar casinos. It's the most faithful recreation of traditional slot machines made specifically for online casinos.
Classic slots are played on 3 to 5 reels. It has the simplest mechanics out of all the other types of slot games, as your only objective while playing is to match symbols in the base game.
It's common for classic slot games to not have special features or bonus rounds, as the main attraction is the base game. Likewise, it's perfect for players who are looking for quick and simple gameplay that remains true to the way brick-and-mortar slot games are played.
Video slots
These types are the most common ones you'll see in online casinos. They are built on the existing mechanics of slot games and improve on them by adding features like unique reel layouts, a variety of bonus rounds, free spins, and multipliers. Video slots offer you even more opportunities to win bigger payouts.
Video slots also tend to have more range when it comes to the variety of themes produced by providers. Due to the number of bonus features present in most video slots, there's a bit more flexibility there in terms of its presentation to make it more creative and enjoyable to play. This results in thrilling and immersive gameplay that you will keep coming back to.
Megaways slots
Megaways slots are an exciting slot variation that gives you several chances to win big as it revolves around the number of paylines present in the game. This type would typically offer over 100,000 different ways to win its huge jackpot prize.
The further you progress through the game and unlock more features, Megaways slot games increase the number of paylines to give you bigger prizes. For example, you would sometimes need to unlock extra reels to become eligible for the bigger prizes.
Check out our Megaways slots guide to learn more about Megaways slots.
Progressive jackpot slots
Progressive jackpot slots offer huge life-changing prizes if you happen to be the lucky winner of these games. Progressive jackpots get as big as they do, as it only takes a small amount of your losses and contributes to the overall pot. Hitting the jackpot in progressive slots is rare, but not entirely impossible.
Most progressive slots have a cap on how big the jackpot can get, and then it's only a matter of time before it pays out. When it does, it goes back to a preset amount set by the casino. Here's a progressive slots guide if you want to know more about this amazing variant.
How to play slot games at Stake Casino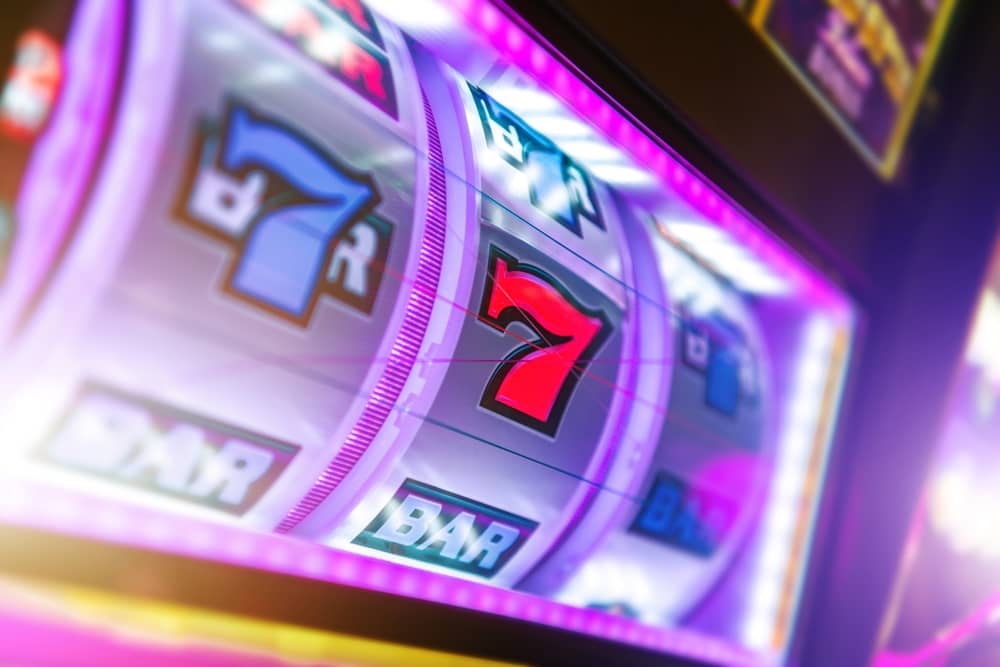 One of the best parts about slot games is their simplicity. Everything you need is laid out right in front of you, and all you need to do is set your bet and push the button. It's a game that's beginner-friendly on top of being a great potential source for massive wins.
It's worth repeating that slot games operate under RNG systems. This means that you have no control over the results of the reels; it's completely up to chance.
Here's a step-by-step guide on how you can start playing slot games online:
1. Pick a slot game to play
Stake offers over 1,000 slot games for you to try out. Each one offers a fresh and unique experience thanks to the immersive themes, stunning graphics and animations, as well as attractive prizes and bonus features. Choose from our roster of slot games and pick the one that suits your interests.
2. Set how much you want to bet
You can typically find and adjust your bet at the bottom of the screen below the reels. Keep in mind that the minimum and maximum bets vary from game to game. The bet you set will be good for one round and will instantly pay if you successfully land winning combinations.
3. Click on the button to spin the reels
Once your bet is all set, you can now spin the reels. The spin button is commonly found in the bottom right corner or on the right-hand side of the screen. Clicking the spin button triggers a spin animation on the reels where it eventually stops and shows you what symbols you landed.
You can also use the auto spin feature that some slot games have. This automates the spinning of the reels for a set number of spins. The bet that you set at the start of the auto spins will apply for the rest of the spins, so make sure you set it to a reasonable amount for your bankroll.
4. Collect your prizes
Finally, when the reels stop spinning, the winnings are automatically rewarded if you land symbols on the required paylines.
5. Slot game bonus features
Triggering bonus features may vary depending on the game and what kind of bonus feature it is. For example, Free Spins are commonly triggered by landing several Scatters on the reels.
Some are activated by collecting several symbols, while others activate randomly throughout the game. These are meant to enhance your gaming experience and give you a better chance at winning higher payouts.
Online slot game strategies
Due to the inherently random nature of slot games, strategy can be hard to implement in the game itself. Instead, you have to follow the best practices to set yourself up for the best chances of success. Protect your bankroll by following these best tips when playing online slots:
Find slots with high RTP
If you want to make the most out of your games, it's wise to look for slots that offer high 'return to player' rates (RTP). This refers to the amount of money you can expect to win from your bets. For example, if you play a game with an RTP of 99%, every US$1 bet can make you win US$0.99 back.
Slot games tend to have high RTPs but often play around 92% to 97%, though you may find games with slightly better or lower rates.
Play games with bonus rounds
Take advantage of features in slot games by ensuring the ones you play offer bonus features. These features are designed to help you win bigger prizes and give you much better value for what you're betting. Check the game info and paytable to know about the slot and what it offers.
Understand hit frequency vs. payout size
In slot games, you can either play games that often pay out small prizes or games that give you rare high-value prizes. This will entirely depend on the way you like to play slots. Ultimately, it's much riskier to choose the latter, but it gives you better chances for higher prizes. However, this is on a case-to-case basis, so it's up to you to assess which is better in terms of risk versus reward.
Take advantage of promotions
Online casinos are known for their various promotions offered to players. Take advantage of promotions such as limited-time events or welcome bonuses if you're a new player to make the most of your time at the casino. You can use promotions like these to try out new games or win more prizes. Check out our promotions page to know more about what we offer at Stake.
Start playing slot games at Stake Casino
Expect endless fun when you play Stake slot games at Stake Casino. Explore our impressive library of over 1,000 slot games, each with its unique theme and massive prizes waiting to be claimed. Every time you make a bet using crypto, you get the chance to win real money when you register today!
Here's how you can get started:
Go to Stake Casino's homepage and click on the blue sign-up button in the top-right corner of the screen
Fill in the necessary details in the form and confirm your account via an email that was sent to you
Confirm your identity by providing the required identification documents
Once you've confirmed your account and identity, you can now make your first deposit to your account
You now have access to and can play any slot game in our collection.
Win huge with every spin of the reels!
Slot games offer a thrilling and entertaining experience both for new and long-time players alike, so you must understand how they work before you dive straight in. If you're looking to try your luck and have some fun playing slot games, this guide has everything you need to know. From understanding slot machine rules and gameplay to exploring different strategies and bonuses, we've got you covered.
Follow this guide and enjoy the rush of winning big without worrying about breaking the bank. Start your slot games journey at Stake Casino today to get the chance to win massive rewards!
Frequently asked questions
Are real money slots safe to play?
When you play at Stake Casino, rest assured that your safety is our top priority. We run a licensed online casino, so you can have peace of mind knowing you can win real money prizes from a legitimate establishment.
How to win online slots?
There are several ways to ensure you make a profit on slot games. One of the most important factors to look at is the RTP rates. The higher it is, the better it is for you. Then it's up to you to assess what type of online slot strategy fits best for your play style, whether you want to focus on the frequency of payouts or the quantity you win each time.
Can I play slots on my mobile device?
Yes, you can. Stake Casino offers a mobile app available for iOS and Android devices so you can play on the go!