How to play blackjack and beat the dealer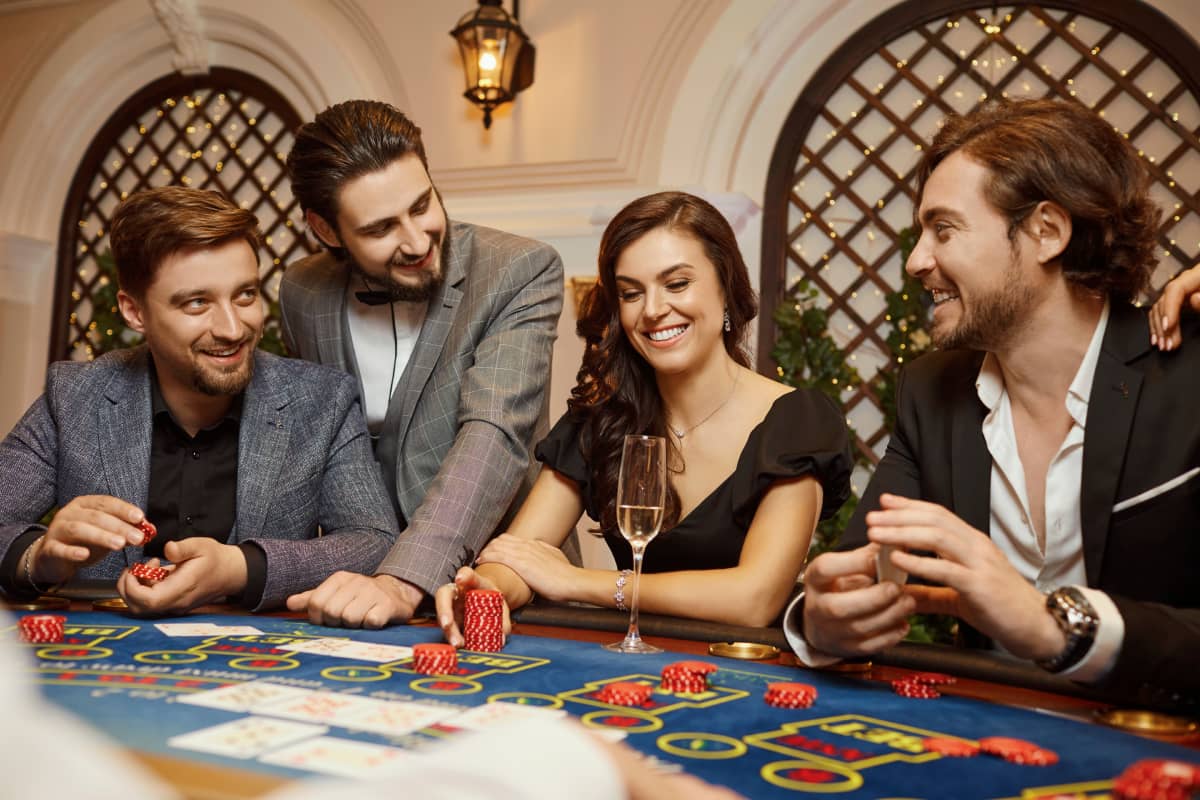 Blackjack is a timeless card game that remains a staple offering in many casinos, whether physical or online. Its popularity lies in its straightforward rules, low house edge and strategic and engaging gameplay.
Though the goal in a blackjack card game is as simple as beating the dealer without going over 21, achieving this requires more skill than luck. You'll have to use your wits and strategies when making moves like hit, stand, double down and more.
With all that said, let's dive into this guide and learn how to play blackjack games so you can get to betting in no time here at Stake.
What is online casino blackjack?
Online casino blackjack simply refers to the digital adaptation of the classic blackjack game. This means that you get the convenience of playing blackjack from home while also having the thrilling experience of betting and playing like you're in a brick-and-mortar casino.
Online blackjack is played similarly to a traditional game of blackjack, as it has a dealer table and is played with cards. The main difference is that the online version is streamed in real-time to a wider audience.
Many casino goers have gone to online casino table games, making this classic card table game all the more famous today. This expounded the player and member base for these sites. This means that there's no shortage of players to compete with and table games like this to bet on.
Another notable feature of online casino blackjack is that you'll easily find a game's return-to-player (RTP) rate. This makes choosing an online blackjack game all the easier.
Why do people like playing blackjack?
We've mentioned that this game is highly popular among casino fans and there are a few main reasons why, like its simple nature, accessibility to players of various experience, social aspects and the potential payouts involved.
The straightforward rules
Let's first look at the online blackjack rules, which are surprisingly straightforward. Unlike complex card games like poker, blackjack's objective of reaching 21 or having a higher hand value than the dealer is simple to understand, which makes it easier for novice players to enjoy the game.
Learning and using blackjack strategies
There's also the strategic component to blackjack, which engages players by having them think ahead, learn skills in probability and develop decision-making skills. The ability to strategise and foresee what cards are going to be presented is necessary to decide when to make a move, which creates a sense of agency and empowerment.
The game's strategic element also greatly contributes to why the blackjack's competitive scene can be so gripping to watch. At these levels of play, professional and high-skill players can truly test their skills against each other for prestige and huge rewards.
Social aspects of the game
Lastly, there's the social aspect of blackjack that can be seen in both physical casinos and online. While physical casinos allow blackjack players to actively see each other, online blackjack has chat boxes wherein players can still interact and enjoy the game together. These interactions make room for interesting and funny exchanges between players and add another layer of excitement to the game.
Blackjack rules, card values and moves 
In a standard game on an online blackjack site, players compete against the dealer rather than against each other. Your objective is simple: to get a card value higher than the dealer without exceeding 21 points.
If you have a higher hand than the dealer, you win. However, if you go above the value of 21 or if the dealer has a higher hand, you lose.
At the start of the game, you initially receive two cards and decide what to do, like get another card (hit) to add to your card total or not (stand). It's up to you to strategise and make sure you have a stronger hand.
If you get 21, you win immediately. You bust and lose your wager if you get a card total higher than 21. The game then proceeds without you.
Once all players at the table are done with their turns, the dealer will reveal their down card. In most online blackjack game rules, the dealer gets another card if their hand is 16 or lower. Once their hand is 17 or above, the winners are decided. All players with hands higher than the dealer wins.
Blackjack card values
A standard blackjack game typically uses a standard deck of 52 cards valued differently.
Cards from 2 to 10 are referred to as number cards and retain their face values. Meanwhile, face cards Jack, Queen and King each have a value of 10. Lastly, the ace can either be a 1 or 11, depending on which is most beneficial to the hand.
Check each card's value below for easy reference.
| | |
| --- | --- |
| Card | Cards Value |
| A | 1 or 11 |
| J, Q, K | 10 |
| 2, 3, 4, 5, 6, 7, 8, 9 | 2, 3, 4, 5, 6, 7, 8, 9 |
These card values, in addition to which combinations you get on an opening round, help you determine which course of action is best to take to win.
Moves
You can make different moves in blackjack, like hit, stand, double down, split and surrender to achieve your goal. Learn more about these moves below:
Hit
A hit is a move where you request more cards from the dealer, which results in a bigger hand value. As a player, you can keep hitting until you hit a bust, which means exceeding the value of 21.
Stand
Standing refers to choosing not to have any more cards. In this state, the player chooses to keep their current hand value, which signals the end of their turn and will move to the next round or player.
Double down
Doubling down means placing a wager equal to your initial bet. It's often done when you have a strong hand that will get a big payout.
Split
Splits are conditional moves you can only do if you have two cards of the same rank, like having double 5s or 6s. When you do this action, you split the cards into different hands, which means placing another bet.
Surrender
This is a move where you give up half of your wager and surrender your cards. Most surrender when they believe their hand isn't strong enough to win.
Although this move may not be available in some blackjack games, it's still important to know of it so that you can choose to play it should it be allowed and when needed.
How to play blackjack online
Knowing the basics can help, but let's put that newfound knowledge into a sample game of blackjack, where we show you a step-by-step process of how a typical game may go:
Before you can start playing blackjack, you'll first need to select a game and take a seat. Simply choose a blackjack game you want to join and click any of the available chairs to take a spot. Stay active while players enter the game to retain their seats.
Place your bet within the betting window to join the next game. Make sure to complete and finalise before your betting window ends to secure it.
The dealer will then announce that the betting window has ended. If the window ends before you can place a bet, wait for the round to end and join the next one instead.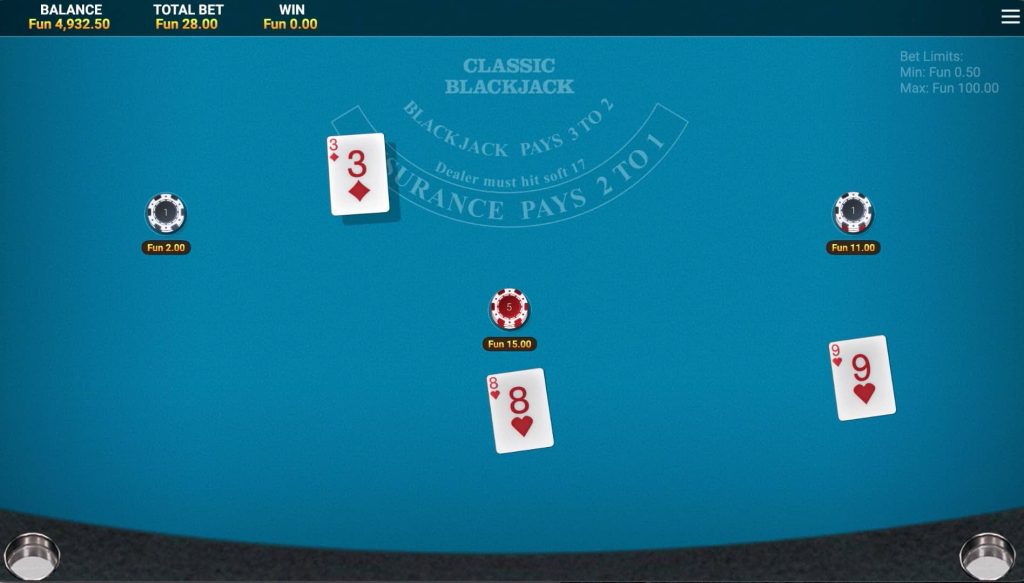 The dealer will begin to deal a face-up card to each player, starting from the left-most side to the right-most player.
After the first round of cards is given, the dealer will then deal another card to every player.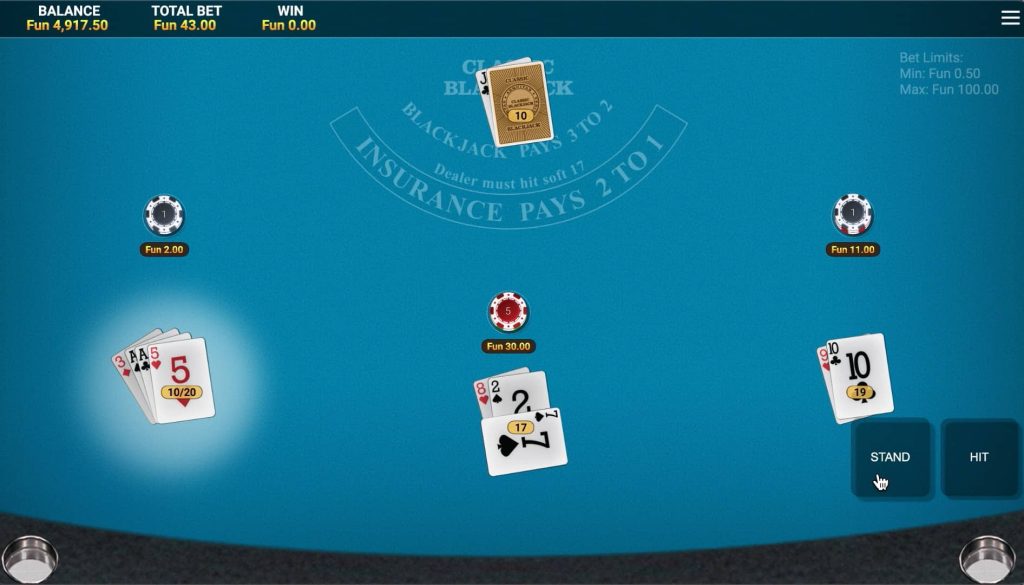 You can then decide which action to take with your cards, considering your total hand value. Choose from the options available on the screen.
Once players have finalised their moves, the dealer's face-down card will be shown to all players and compared to your and each player's hand.

If a player has a stronger hand, they win the bet
If a player has a weaker hand, they lose the bet.


After winners and losers have been identified, payouts will be given, and cards will be collected and set aside for the next round.
Types of blackjack games
With the foundations of a blackjack game now instilled in you, you're probably itching to try out some live blackjack games. Stake Casino is a highly reputable online casino platform that has popular types of blackjack games on offer. Read below for more details on each and what makes each of them special.
Blackjack Original
Game developer: Stake Originals
Game type: Online Blackjack
RTP: 99.43%
Min. bet: Over 0.00001 USDT
Max. bet: 200 million USDT
If you're new to online blackjack games and want to try them risk-free first, try Blackjack Original. It's a Stake Original RNG table game where you play with an AI instead of a live dealer.
In addition, you can look forward to payouts of 1:1 when you have a better regular hand than the dealer or a payout of 3:2 if you win against the dealer with a Blackjack.
Blackjack Live with Evolution
Game developer: Evolution
Game type: Live dealer blackjack
RTP: 99.29%
Min. bet: US$1
Max. bet: US$5,000
Blackjack Live is a highly immersive game from reputable casino game provider, Evolution. It features a blackjack table and a luxurious-looking background with a dealer facilitating the game.
The game is played with standard European rules, using 8 decks of cards and has side bets for an added thrill. Play this game with a house edge of 0.6% and a group of 6 other players to maximise your wins and bring in the fun.
Lightning Blackjack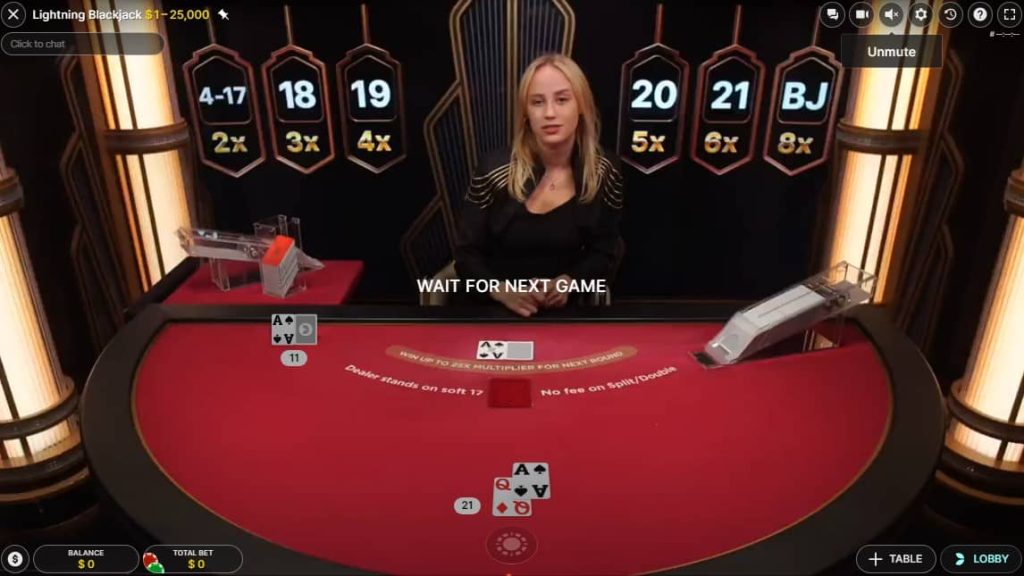 Game developer: Evolution
Game type: Live dealer blackjack
RTP: 99.56%
Min. bet: US$1
Max. bet: US$25,000
Lightning may not strike twice but maybe big payouts of up to 25x will in Lightning Blackjack by Evolution. This variation of the classic blackjack game offers big win potentials and a fast-paced gaming experience that puts you on the edge of your seat.
Prepare to make every wager count, as this game has an RTP of 99.56% and a house edge of less than 1%. Standard wins for this game are paid out on a 1:1 basis, while a blackjack win is paid out in 3:2. The fun twist to this game mode is the lightning fee that you can pay for a multiplier on your payout.
What is the advantage of online casino blackjack at Stake?
As a popular and safe online gambling platform, Stake wants to ensure that gamblers like you have memorable and thrilling experiences. Many gamblers worldwide enjoy playing Stake blackjack for reasons like its fast-paced game variations, convenient and accessible layout, big rewards and applicable promotions.
Stake is also home to numerous renowned casino providers, meaning you can access all sorts of blackjack variations at a click of a button. Navigate the site easily with its user-friendly layout.
Best of all, you can play casino games using crypto. Deposit any of our accepted cryptocurrencies and bet with them on all our games, like blackjack. And when you win, you get crypto right back.
How to play blackjack at Stake Casino
A world of gambling and high payouts awaits you when you play blackjack here at Stake Casino. But first, you have to become a member. Follow the step-by-step guide below to register an account, deposit crypto and wager big bets today!
Go to Stake Casino and click the blue register button on the top right side.
Provide the necessary details like an email, username, strong password and date of birth. You could also link your account to a Facebook, Google, Line, or Twitch account for faster access.
Accept the platform's terms and conditions once all the details have been added.
At this point, you can use your account, but it's best to verify your account using your email address for full access.
Now that you have a fully verified account, it's time to deposit some funds into it. Simply click the Wallet button at the top and choose from the different types of cryptocurrency the site accepts, such as:
Bitcoin (BTC)
Ethereum (ETH)
Dogecoin (Doge)
Litecoin (LTC)
Etc.
Use the stated deposit address and set it as the location where your cryptos will go.
Choose a blackjack game to play. You can click the 'Blackjack' category on the left sidebar for easy picking. And there you have it! You can now bet with crypto as much as you like and win real money.
Play blackjack and beat the dealer to win big at Stake Casino!
No one becomes a blackjack master overnight, as even the best of the best players started somewhere. To truly become good at blackjack, it takes practising for hours, learning different blackjack tips, adjusting to the situation at hand, and so many more skills.
With that said, you've learned how to play blackjack and can branch out your knowledge. Put your newfound knowledge to the test here at Stake Casino and take your payouts to new heights.
Play some of the best online blackjack casino games at Stake Casino now!
Frequently Asked Questions
What is blackjack?
Blackjack is a highly popular casino table game where players play against the dealer. The player's goal is to get a stronger hand than the dealer without going over 21.
How to play Blackjack with crypto?
To play blackjack with crypto at Stake Casino, you first need to make an account and deposit crypto into it. Then, choose your preferred blackjack game and place your crypto bet. If you win, you get crypto rewards back.
How to win online blackjack?
Online blackjack rules are the same as regular blackjack rules. So to win, you only need to have a higher hand than the dealer and not bust. You instantly win the respective payout if you get 21 with your initial cards.
How many decks are typically used in blackjack?
A standard game of blackjack is commonly played with one deck of cards. However, two or more decks of cards are used in blackjack games like Spanish 21 and European Blackjack.
Make sure to clarify how many decks are used in your blackjack game of choice.
How do blackjack players count cards?
Card counting is an advanced skill blackjack players use to better predict which cards left will appear. To count cards, you'll need to have a good memory to track and remember which cards have been dealt and which are yet to show up.
Although card counting is not illegal, casinos discourage it and will take action like shuffling decks or using multiple decks of cards to make it harder to use this skill.
Should I always hit until I reach 21?
Though you can, it's best not to because of the risk of going over 21. Remember that the goal of the game is to beat the dealer. This means you only need to have a higher hand, which you can achieve even without reaching 21.