Mixed Martial Arts Betting: How to bet on MMA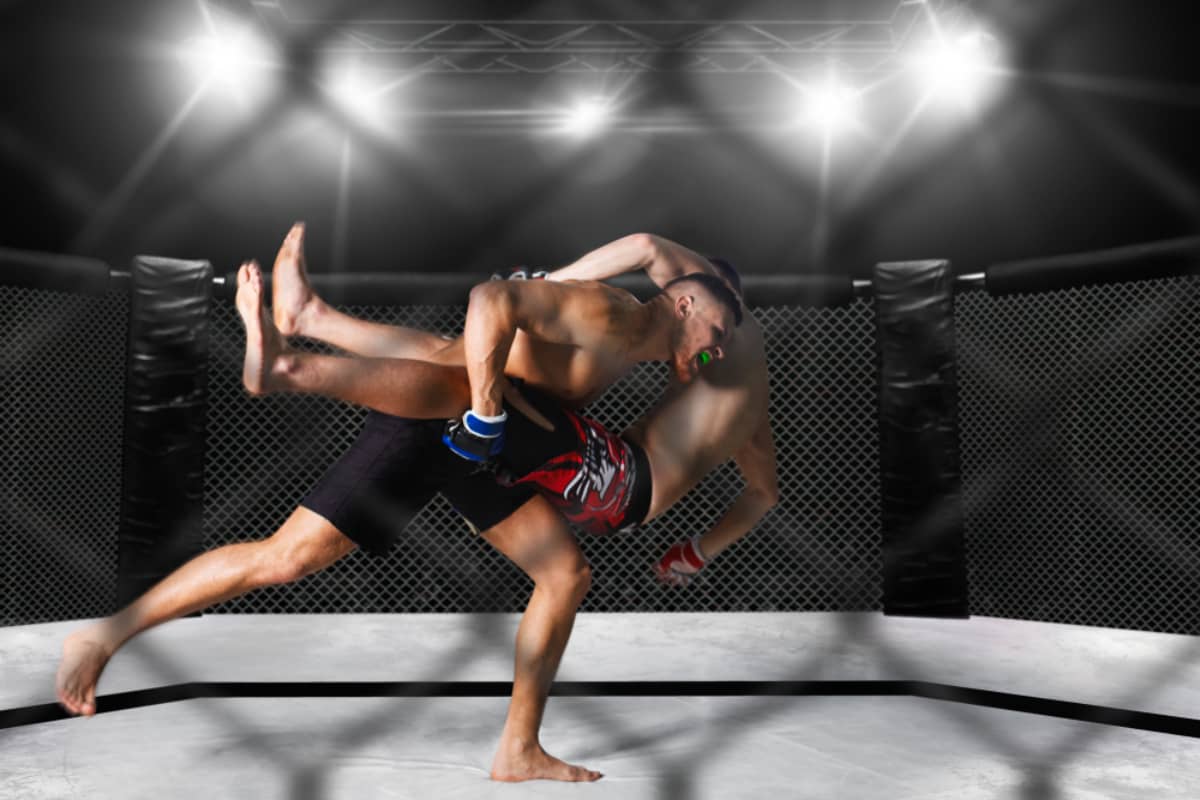 Mixed martial arts is a contact sport filled to the brim with action and anticipation. Watching two skilled fighters landing perfectly placed combos and dodging kicks by inches in the cage is enough to get your blood pumping with adrenaline.
Why not add another layer of excitement with sports betting? Online gambling has taken the sports world by storm, and MMA is one of the top events. Online MMA betting offers a unique opportunity for fans to support their favourite fighters as they place their wagers.
If you're new to MMA and betting, find out everything about it before making your first bet.
What is MMA?
Mixed martial arts is one of the most popular events in the world of full-contact combat sports. It allows the full use of a wide variety of fighting techniques and skills from other combat sports. Athletes are allowed to use disciplines under different forms of martial arts but are required to follow a unified set of rules when participating in the competition.
The objective of MMA is to beat your opponents by using striking, throwing, and grappling techniques borrowed from several other martial arts disciplines. Because of this, MMA athletes are often highly skilled in multiple forms of combat sports as they'd have to cross-train or incorporate different skills into their training regimen to use in competition.
MMA rules you should know
All MMA competitions follow a strict set of rules to ensure the fighters' safety and the sport's integrity. There are several factors to consider, like the fighters' safety and overall fighting standard during an MMA competition. Having a unified set of rules across all MMA events helps guide each match and keeps a high standard of quality.
Let's dive into the specifics below:
Players and equipment
MMA is a one-on-one sport held in a ring or cage. Compared to other contact sports, there is little to say in terms of equipment and protection. Fighters only use specially designed MMA gloves that are meant to be lightly padded to protect the hands when punching.
Players are divided into two divisions by gender and are further categorised according to their weight range. Below are the weight classes among the men's and women's divisions:
Men's Division
Flyweight (125-pound limit)
Bantamweight (135-pound limit)
Featherweight (145-pound limit)
Lightweight (155-pound limit)
Welterweight (170-pound limit)
Middleweight (185-pound limit)
Light Heavyweight (205-pound limit)
Heavyweight (265-pound limit)
Women's Division
Strawweight (115-pound limit)
Flyweight (125-pound limit)
Bantamweight (135-pound limit)
Featherweight (145-pound limit)
Scoring
Scoring in MMA is done in the same way as other combat sports like boxing. Three judges surround the outside of the cage and score each round, giving the winner of that round a perfect score of 10 and a 9 to the loser. In some instances, an 8 can be given during rounds where there is a clear winner.
If the fight is seen through to the end, the decision goes to the judge's scorecards, where scores are totalled. The athlete with the most points is declared the winner of the match. If the scores come out equal, the match is declared a draw.
Winning the match
An athlete can be declared the winner of a match in several ways:
Submission (SUB)
A submission occurs when a player physically or verbally taps out of the fight, meaning they willingly yield to their opponent. This often happens when they are unable to break free from a grapple.
Knockout (KO)
A knockout in MMA happens when a fighter loses consciousness during the fight due to legal strikes.
Technical Knockout (TKO)
The referee calls a technical knockout, fight doctor, or coach as soon as they feel that a fighter cannot properly defend themselves from repeated blows. This can happen when a fighter is too disoriented to protect themselves. When a TKO is called, the fight ends, and the winner is declared.
Judges' Decision
If the match runs the whole course, the victor is decided through the judge's scorecards. Refer to the following for the difference between the judges' decisions:
| | |
| --- | --- |
| Decision | Description |
| Unanimous | When all three judges vote for the same fighter |
| Majority | When two of the three judges vote for one fighter and the third votes for a draw |
| Split | When two of the three judges vote for one fighter and the third votes for the other fighter |
| Draw | When all three judges score the two fighters evenly |
Disqualification (DQ)
Disqualification happens when a fighter continuously makes offences or illegal strikes despite repeated warnings from the referee. A DQ will automatically lose the match.
MMA Betting rules: How MMA betting works?
Before making any wagers in live MMA betting, first, you should know the rules and understand how matches normally play out so you can make sound MMA betting predictions. Find out all you need to know in the MMA betting guide below:
How to read odds
The most common format used to read odds in MMA is the American betting odds. Using this format, the favourite is represented by the minus (-) sign, and the underdog is represented by the plus sign (+). The sportsbook determines these based on different information like the fighter's ongoing record, any existing injuries, and other factors that might affect their performance.
As a note, odds are usually based on a $100 wager.
Let's use the following as an example:
| | |
| --- | --- |
| Fighter | Odds |
| McGregor | +125 |
| Nurmagomedov | -155 |
In the example above, the favourite is Nurmagomedov, and the underdog is McGregor. If you wanted to bet on Nurmagomedov, you would have to wager $155 to win $100. On the other hand, wagering on McGregor means you would win $125 for every $100 you stake.
Typically, you face more of a risk wagering on the perceived underdog, which is why the bet is much lower. But if they win, you get a bigger payout compared to winning with the favourite.
MMA Leagues you can bet on
Place your bets on the best fighters in MMA's biggest leagues. MMA has many different leagues, all filled with talented fighters, but if you want to experience the best that MMA betting has to offer, you should invest your time and money in its finest options.
Betting in MMA leagues is extremely common within the world of combat sports betting. The fighters give MMA fans a fantastic show of strength and skill, but the betting adds another layer of excitement for fans who invest monetarily.
Here are the best leagues you can bet on:
Ultimate Fighting Championship
As the biggest MMA league, the UFC needs little introduction. As the biggest mixed martial arts organisation in the world, it's home to the most skilled fighters. Their roster includes some of the best athletes in history such as Khabib Nurmagomedov, Israel Adesanya, and Amanda Nunes.
Bellator MMA
Coming after UFC, Bellator MMA is the second leading MMA organisation in the world. Bellator had initially been known among MMA fighters as a single-elimination MMA tournament where one victor can win huge cash prizes. Their roster includes names like Michael Chandler, Lyoto Machida, and Ryan Bader.
Konfrontacja Sztuk Walki
Simply known as KSW, this is the premiere MMA organisation in Poland, and one of the best in Europe. The KSW hosts eight-man tournaments composed of the best fighters in Europe who've moved on to the UFC. Their roster, the KSW Team, includes names like Mamed Khalidov and Krzysztof Kulak.
MMA betting types
There are multiple betting lines available in MMA sports betting. Punters can bet on moneyline betting, over/under betting, and parlay betting.
Moneyline
Moneyline bets are the most straightforward in sports betting. For this type of wager, you simply bet on which fighter you think will win the match.
Let's use our previous example:
| | |
| --- | --- |
| Fighter | Odds |
| McGregor | +125 |
| Nurmagomedov | -155 |
If you want to make a moneyline bet, choose which of the two fighters you think will win. Betting on McGregor, for example, means having to bet $100 for the chance at $125.
Over/under
Over/under bets in MMA are dependent on whether a fighter lasts beyond or just short of a round predetermined by the sportsbook.
Here's an example:
Based on the example above, if you think a fight between McGregor and Nurmagomedov will go beyond the third round of the match, you would bet on 'OVER'. Otherwise, you bet on 'UNDER'.
Parlays
Parlay bets refer to placing multiple bets on different matches. You can only win your bet if you're successful in all of the bets included in your parley. For example, if you parlay on McGregor and Holloway winning their respective matches, they both need to win for you to receive a payout.
MMA betting tips and strategy
Creating an MMA betting strategy can be quite straightforward, but it can be a tricky process to master. You need to consider several factors, from the MMA betting odds to a fighter's current record and statistics.
If you want to make smart bets, you'll need to analyse all of these factors in tandem with each other to maximise your wagers. Follow these MMA betting tips to get started:
Find value in the odds
The first and more important thing to learn before you start placing bets is the ability to read odds properly. Determine which ones you think will make the most profit by analysing all aspects of what could have formed those odds. This could include the fighter's form, their recent performance, or their fighting style.
MMA odds are decided based on factors both inside and outside the cage. Seeing a fighter's skill is simple, but putting that knowledge together with external factors will help you make more informed decisions.
Research on the athletes
This goes hand-in-hand with the previous tip. It's important to keep tabs on the fighters involved in the match, not just the one you're wagering on. Having a better understanding of a fighter's style and habits will help you make better betting decisions.
Bet on reputable sportsbooks
Do your due diligence by looking for trustworthy sportsbooks. Check for licences the sportsbook might have. You can also compare the odds made between different bookmakers and see which you think may bring the most profit.
How to bet on MMA at Stake Casino
Get the best experience in Mixed Martial arts betting when you sign up for an account with Stake. Follow the simple steps below to find out how you can register and place your MMA bets at Stake:
Creating your Stake account
Open your browser and visit Stake's site
Click on the register button in the top right corner
Enter the necessary information and click 'Play now' to finish your registration.
You can make your first crypto deposit by accessing your wallet through your account and choosing your preferred method of payment.
Betting on Stake
Now that you've created your account, you're now ready to begin betting in the MMA league by following the steps below:
Click on the MMA tab on the navigation bar. This will direct you to the current and upcoming events from all leagues.
Choose which event you want to bet on and carefully consider which fighter you want to wager on.
Once you've chosen, select that fighter and enter the amount you want to wager on the pop-up window.
Wait for the match to conclude. If your bet wins, you receive your payout in your account.
Get the best of mixed martial arts betting only at Stake Casino
The world of MMA is an exciting one. The thrill of seeing top fighters battle it out for glory is enough to keep onlookers' adrenaline pumping. Betting adds another layer of excitement to that.
Now that you've learned the ins and outs of MMA sports betting, it's time to put your knowledge to the test. Start betting on your favourite fighters now at Stake!
Frequently asked questions
Where to bet on MMA fights?
The best place to bet on MMA fights is at Stake Casino. We offer the best odds in the market for your favourite fighters.
How do you read betting odds in MMA?
Mixed martial arts betting odds are determined by the sportsbook. This can be based on several factors, like the fighter's performance and their fighting style. The favourite is denoted by the minus (-) symbol, while the underdog has the plus (+) symbol.
What is the best way to bet on MMA?
The best way to bet on MMA fights is with Stake, the best sportsbook and casino online. Register now and begin your new career in MMA sports betting.